Customer relationship management (CRM) systems are designed to streamline your business processes involving your customers and potential customers. However, as a small business owner you may hesitate to use this technology, being unfamiliar with the concept. Entrepreneurs who are not well-versed in technology sourcing may also avoid using software such as CRM for their businesses.
It's true that humans will never be replaced by computers when it comes to communication and socialisation, but CRM doesn't replace human employees in terms of client management. In fact, key benefits of CRM for small businesses include improved customer relations and employee performance.
What are some of the key benefits of CRM for your small business?
1. Organisation
CRM systems provide safe and organised storage of customer information. All of your client information will be stored in one place and it can only be accessed by authorised users. You won't need cluttered filing cabinets or multiple excel files to keep your records updated anymore. This will ensure that your customer data is secure, easy to access, and accurate.
2. Efficient scheduling & tracking
Many tasks and deadlines fall through the cracks when people do everything manually. Using a CRM system will help you monitor your campaigns and schedule your activities accordingly.
3. Faster exchange of communications
With CRM, you have a separate platform for client communication, unlike email which can be cluttered. Your client management department can easily view client messages and respond to them in a timely manner.
4. Close analysis of customer data
Using CRM will help you track every move your customers makes. This will help you develop better client relations and improve your customer service. This will also help you find leads on who has the same criteria as your current customers.
5. Improved marketing strategy
As you analyse your customer data more closely, you can identify what your clients' needs are. This will help you in cross-selling your other products and services that are in line with their current and previous purchases. In turn, this will increase your sales and result in better conversions.
6. Better team collaboration
Your client management department will be able to better collaborate with other departments, such as marketing and finance, since they have all the data they need saved in one system. They can also share marketing ideas that are specifically targeted toward your customers and similar leads.
7. Superior customer service
With closer communication and timely responses, customers will be happier to work with you because they can recognise your effort to ensure customer satisfaction. This will also help with retention and referrals.
8. Targeted lead generation
CRM software can concentrate on your target market. You can apply your marketing campaigns to specific leads who have a higher interest in your products and services. Email campaigns can also be personalised, making them more convincing and impactful.
9. Automation
Most businesses have repetitive tasks that are done in a pattern, such as sending out monthly customer reports or weekly follow-ups. These processes can be programmed into the CRM software so that the monotony of the activity will no longer be handled by an employee.
10. Integration with other software
Many CRM systems can be integrated with other programmes such as accounting, project management and data processing software. This allows you to match your customer information with all of your other business processes. This will also help you pick which one is best suited for your business.
Having a CRM system in your business will help you achieve better organisation and implementation.
Disclaimer: The views and opinions expressed in this article are those of the author and do not necessarily reflect the views, official policy or position of GlobalLinker.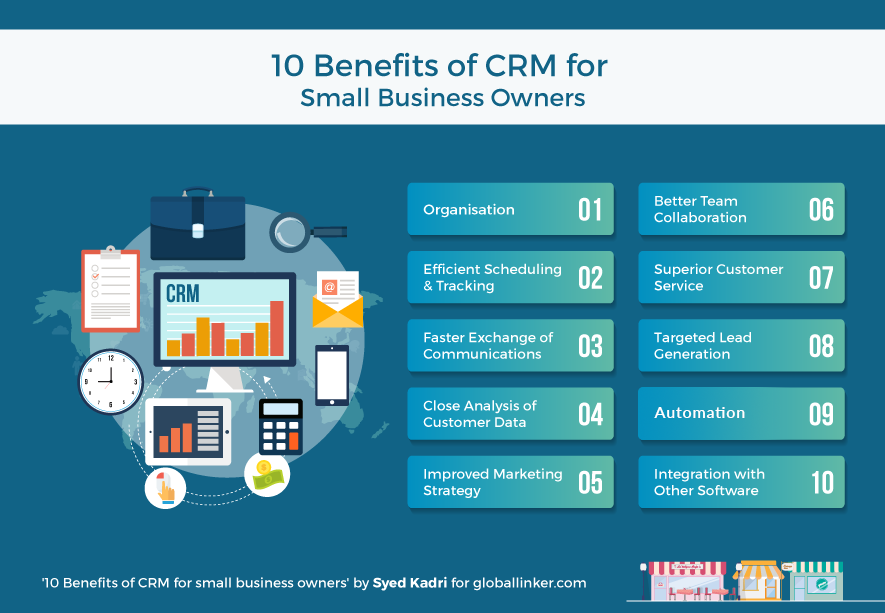 Posted by
Syed Farooq Kadri
We are bunch of enthusiastic and self-motivated people who want to build simple solutions to complexed problems.