I remember the days when I had just graduated from college & didn't know what to do next. Earlier, we had limited career options of being either a doctor, engineer or working for a bank.
When I couldn't get through the CET exam, I continued my studies in BSc. I graduated college with a distinction in Bachelors of Science but felt lost in this competitive world. We often believe in fate and just grab the opportunity that comes our way. This is how I found my way in the apparel field. But that cannot discount the fact that I love my work and am very passionate about it.

After working with various international brands and buying houses for 22 years when I decided to start my own business, it was a huge leap of faith. I did not have much experience to run a manufacturing unit. To gain some experience, I joined my friend's garment manufacturing factory. Though my experience of working with him was not entirely pleasant, I did learn a lot there. I realised that as an owner of an enterprise, it is imperative to be caring & compassionate towards one's staff. One incident in particular got me thinking. One of the workers in the factory, an elderly man, hurt himself while lifting the goods. He had to be taken to the hospital as he was seriously injured. Since I was witness to this, I made all the arrangements and made sure he got the right treatment. While all this was happening the owner of the firm was unconcerned.

I started contemplating, to become a successful businesswoman, do you have to be ruthless, unkind, and compromise your integrity? Being a woman, I do have a soft and kind nature. Most of the times, the emotional part of my brain dominates the logical part. Few of my friends and colleagues say that I'm not suitable to be in this industry because I'm too soft-hearted.

The manufacturing industry is basically an unorganised sector where people management is always a challenge. I give preference to women workers in my organisation. Women's life in rural areas is pathetic. They go through emotional and physical torture every day. They work so hard for the family and kids. I hear stories from each one of them and my heart goes out to them.

I took it as a challenge and wanted to experiment if I could run the business successfully without compromising on my innate kindness. It is not easy to drive the business being very soft and kind natured. People sometimes try to take advantage of you and the key is to strike the right balance. I believe that intelligence, smartness and kindness should go hand in hand.

There have been a few incidents in my business that have reinforced my thinking.


I had a delivery commitment of goods to a customer and there were delays at our end. There was a threat of a huge charge back as well as order cancellation. I was very tense. To add to this, my father fell sick. His health condition was very serious. I had to travel to my native place. But it was so amazing to see the way my entire team worked together day and night to ensure that we met the deadline, despite my not being there and without me asking any favour of them. They understood my situation and got together and worked very hard. They stood by me during my difficult time.

On another occasion, during a cash crunch, one of the employees went to the extent of pledging her jewellery and supported me to make a few emergency payments on time.

I am mentioning these incidents just to show the power of kindness and how it is always reflected in one's environment. Building a business is building a strong team of capable people around you. I believe that people power is infinitely stronger than money power. These incidents reinforce my belief that to be a successful entrepreneur it is important to have a good heart and kind nature.

Women should be proud of their soft, kind nature. It is in-built in us. We can balance our personal and professional life so well, by playing various roles like mother, sister, wife, daughter, daughter-in-law in a family along with our profession.

I chose to write about this, on Women's Day, to celebrate us -- our special inbuilt qualities. We have proved to the world and to ourselves that we can do anything if we want to.

So, lady, be proud of yourself. Lift your head high, broaden your shoulders and walk forward with courage & grace.
Disclaimer: This article is based solely on the inputs shared by the featured member. GlobalLinker does not necessarily endorse the views, opinions & facts stated by the member.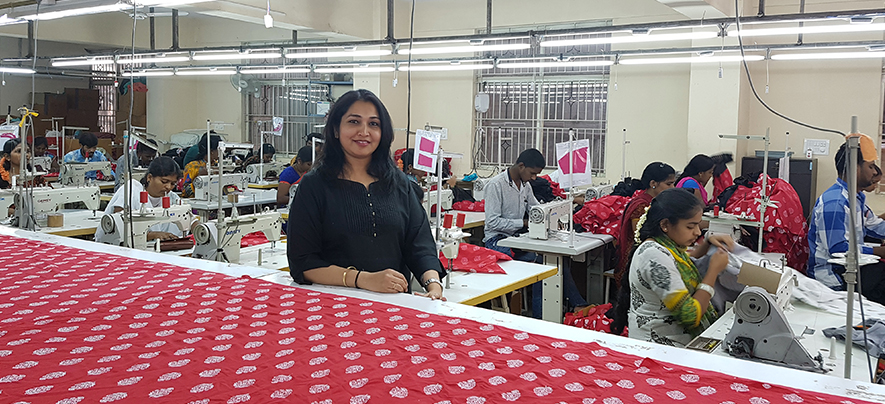 Posted by
Triveni Hebbar
Senior Management Professional with experience spread over a period of 22 years, I bring diverse and rich experience , working in international and domestic apparel business...