"A company loses 5% revenue in EXPENSE FRAUDS." (ACFE Report, 2016)


It's hard to look beyond a statistic as the one above. Very hard, especially when the need of the hour is the ROI of every dollar spent and accountability is at its zenith – none more so than in the case of bootstrapped upcoming startups where resources are scarce. Couple that with the issue of timing in detecting such frauds – a staggering 18-20 months, and you are bound to take note. Complicating things further is empirical data that shows that almost half of the companies fail to recover these losses, in spite of initiating elaborate detection processes.
A recent survey conducted by the Association of Certified Fraud Examiners revealed that employees comprising the 'Executive/Upper Management' level in a company account for nearly a fourth of fraudulent reimbursement cases.
One cursory look at the below infographic will make your heart bleed, if you are running your own business! With this as preamble, let us see methods of combating and preferably eliminating these, once and for all. Here are our top five ways of eliminating expense frauds.
1. Be alert & questioning
Once employees get the drift that you are keeping an eye on submitted claims and are questioning the 'out of the ordinary' ones, they are less likely to submit such claims in future.
2. Take strict action with defaulters
Take strict action against the defaulters to ensure that the company policy of submitting accurate expense accounts is followed by all employees.
3. Create relevant & actionable expense policies
Having a well-defined expense policy can help reduce expense frauds by almost 54% in itself.
4. Eliminate manual processes that allow fraudsters to flourish
Manual processors are time consuming, error prone and not reliable. They weaken the system and act as opportunities for fraudulent activities.
5. Automate policy enforcement
An automated expense management system like Happay has in-built controls that enable you to auto check expenses against limits and policies before they are submitted so you can eliminate the incidence of frauds entirely.
Sounds great? Hop on to automation today. To know more, link with me by clicking on the 'Invite' button on my eBiz Card.
Disclaimer: The views and opinions expressed in this article are those of the author and do not necessarily reflect the views, official policy or position of GlobalLinker.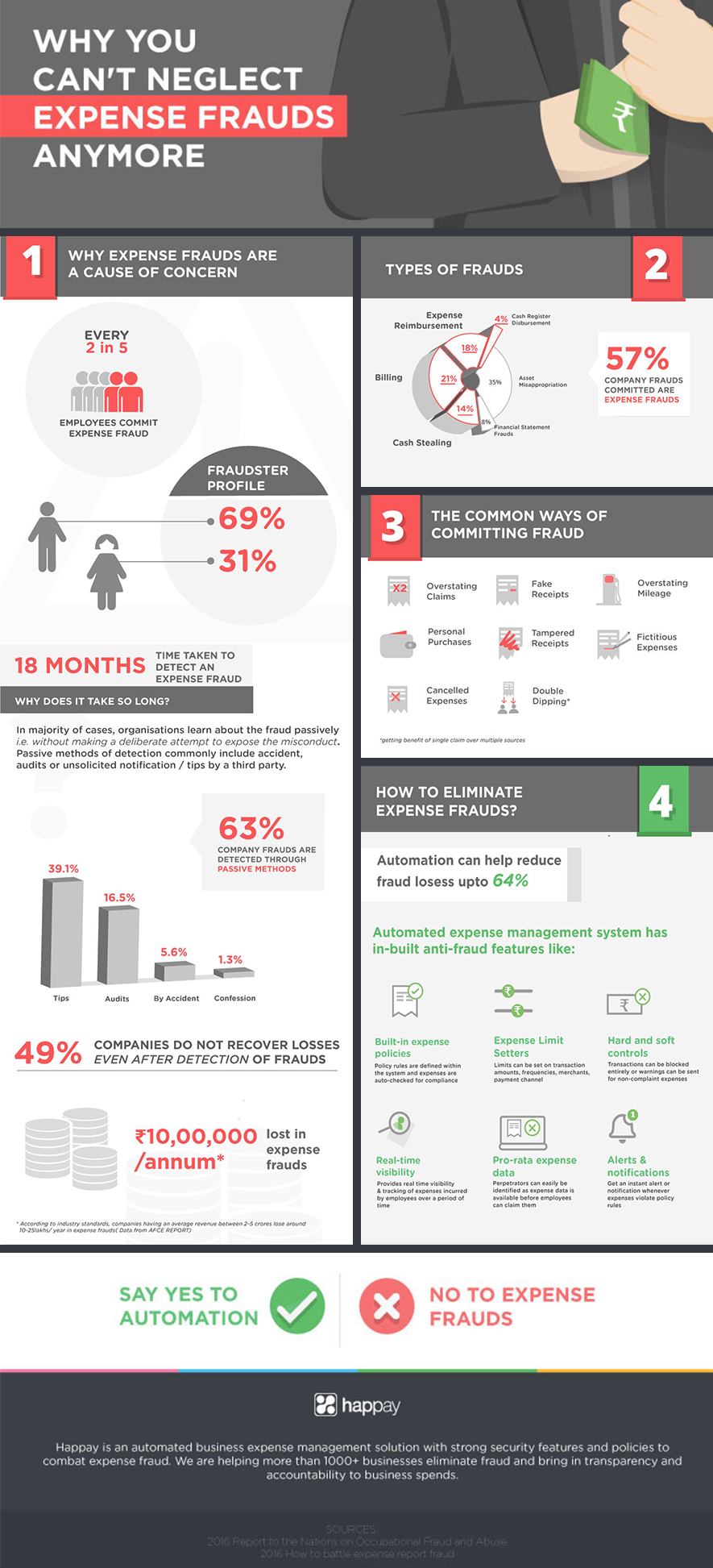 Posted by
Varun Rathi
About Happay: It is a fast growing and funded company in the Indian FinTech industry. The company's core vision is to help companies in achieving end-to-end payment...