A mother is the first gift granted to a child as s/he takes its first tentative steps into this world. Indeed, a child's earliest memories are more often than not of being cared for by his/her mother. A mother presents certainty and the child's seemingly infinite demands are met with love. It is a long time till the child is able to realise the value of that love - taking it for granted is a prerogative.


This Mother's Day we catch up with some entrepreneurs and get their thoughts on how their mothers have played a vital role in shaping their lives.

Ankit Roy, MD & CEO, Shaktisteller Energy Solutions Pvt. Ltd.
My entrepreneurial journey started in 2009 when I quit my job. Although I enjoyed the bumpy ride, there were hard times as well. This is when my mother supported me with her energy. Being a highly optimistic person, she always thinks the grass is greener on our side. I learnt the convoluted concept of context change from her which eventually led me to tap into the business of solar energy. Entrepreneurship is not a career, rather a lifestyle. At times when I have back to back meetings or when I have to work late nights she always stops by. Sometimes to feed me, sometimes to soothe me and sometimes just to be with me.
Last year lightning struck our lives & we nearly lost her to one of the most devastating diseases on earth. For the first time in my life I was scared I'll never see her again. This mother's day, I thank the miracle that cured her of cancer.

Dimple Mirchandani, Founder, Secret Dresser (Azzka Trading Pvt. Ltd)
I always say, I am just a reflection of all that Ma is.She is and will always be my inspiration in life and all that I do. It's true, I owe it all to her. She is what defines the term 'hero' and 'strength' for me.


Jagriti Choudhary, Co-Founder & CEO, Skinyoga
Our mother is our role model. We want to be her: loving yet strong. Throughout our journey with Skinyoga, our mother has been so supportive and encouraging. On day one, when we were just building a website, she knew we will be global! Today when we sell globally, she knows we will be the best skincare brand in the world. Her belief in us is our biggest strength and I cannot thank her enough!

Ranu Jain Gupta, Founder, My Sanika Cancer Care Society
Life was going smooth around 14 years ago. One fine day we got to know that our father has been diagnosed with Cancer. It shook the whole family as me and my younger brother were studying and our father was the only earning member of the family. Our mother took a bold step and she started handling the business along with taking care of our father and the entire family. We had spent so much money on his treatment but still, she sent me to study out of Indore in one of the most expensive institutions of India. She took a loan for this. I owe my success to her and I can only hope to become half the lady she is! She is a real entrepreneur! Thanks Mumma (Mrs. Rajni Mahendra Jain) for raising me right. You have raised me to be strong and independent.
And now, this one is for my other mother (Mrs. Asha Gupta) after my marriage because Mother's Day is for all moms. It's because of you I could continue my entrepreneurial journey after marriage. Thank you mom for understanding me, for believing in me, sticking up for me and a big thank you for being my expert in everything. I hope that after my son's marriage I do half as good a job as what you have done for me.
Shriyans Bhandari, Founder & CEO, Greensole
Every mother, I believe, plays an important role in the success of her children. As a constant pillar of support, someone to always talk to, to inspire and to look out for one's wellbeing. I also draw inspiration in multi-tasking, entrepreneurship and tolerance from my mother.
Network with SMEs mentioned in this article by clicking on the 'Invite' button on their profile. Jagriti Choudhary, Shriyans Bhandari, Ranu Jain Gupta, Dimple Mirchandani, Ankit Roy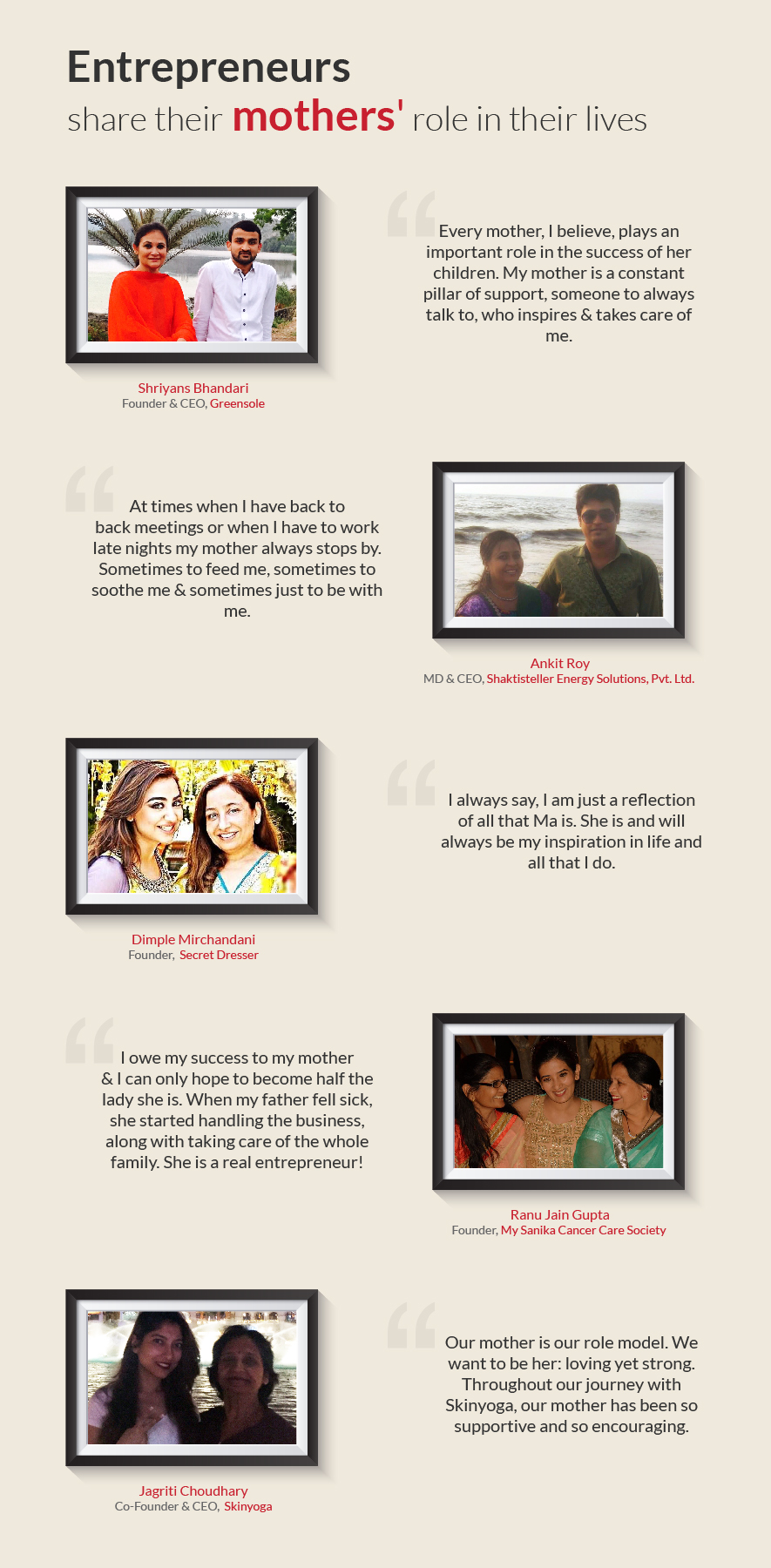 Posted by
GlobalLinker Staff
We are a team of experienced industry professionals committed to sharing our knowledge and skills with small & medium enterprises.