As the Indian economy accelerated to 7.6% in 2015-16, the International Monetary Fund has hailed India as a 'bright spot' amidst a slowing global economy. Expectations are running high, given the special focus and reach the present government has had on startups.
With PM Narendra Modi's ambitious Start Up India, Stand Up India plan to boost entrepreneurship in India underway, the budget delivered by Finance minister Arun Jaitely expectedly had special announcements to support the efforts of SMEs and startups.
Here are 5 highlights of Budget 2016 for SMEs & startups:
1. Reduced Corporate Tax
Corporate tax reduced to 29% for companies having turnover less than Rs 5 crores.
2. Capital Gain Related Benefits
Capital gains will no longer be taxed on investments in regulated fund of funds for startups. Additionally, long-term capital gains for unlisted firms have also been lowered from three years to two years.
3. Tax Exemption
Good news for startups. Budget 2016 provides a 100% tax exemption for first 3 years, with the exception of MAT (minimum alternative tax).
4. Register a New Company in One Day
There couldn't be a better time to start a company in India, as the government is committed to enable conducive environments for startups. Amendments have been made to the Companies Act to ensure speedy registrations, to boost startups in India.
5. Year of Entrepreneurship for SC/ST and Women Entrepreneurs
Finance Minister Arun Jaitely has earmarked Rs 500 crore to encourage SC/ST and women entrepreneurs under the Startup India scheme.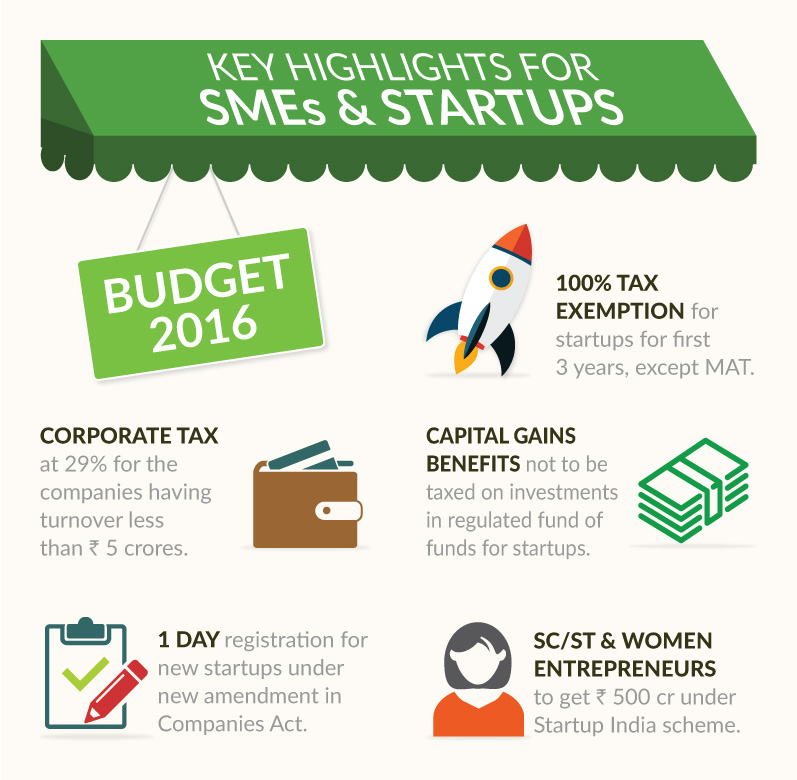 Posted by
GlobalLinker Staff
We are a team of experienced industry professionals committed to sharing our knowledge and skills with small & medium enterprises.