One of the most effective ways to grow your business is by having a strong digital profile. Let's understand this using a simple example. Lisa is a business owner in the garment manufacturing industry. One fine day she gets an offer from John who operates in the retailing industry and claims to sell products to big brands. Lisa is excited about getting into a business partnership with John, but how can his business be validated? Lisa googles John's business and doesn't find much on the internet as there are no product/service listings, not a valid online profile or website. This changes Lisa's mind and she pulls back from the offer and John loses what otherwise could have been a great business partnership!
While we're sure you've heard that taking the time to make a complete profile is important, perhaps you haven't really understood why that is. Here are the top 6 reasons why a completed profile is critical in helping you get the most for your business:


1. Accessibility
An updated profile with all your business details ensures that potential business connections and new clients can easily find you on the internet. Not everyone uses the same apps or visits the same websites. No matter where people find you, making sure all your information is up to date and relevant is paramount. It's the rule of averages, the more places you can be found, the higher probability you have to be seen. Give potential customers and investors an easy way to learn about you and reach out. A definitive digital footprint also allows you to be found more easily through search engines and on the web in general.
Did you know that more than half of people in their 20s to 40s check multiple places to determine the legitimacy of a business and/or its products? A verified business or an endorsed profile conveys greater trust and legitimacy.

2. Make meaningful connections
Having a strong digital profile will allow you to make meaningful connections. Make sure your profile includes details such as your business description, year it was established, product/ service summary, website and social media links, awards, and other unique information about your business. Connecting with the right partners, clients and investors can play a major role in your business growth. Porter Gale, author of the book 'Your Network is Your Net Worth' says, "With social media and technology, we're really in a global society. We've seen time and time again that miracles can happen and connections can be made. The world has been reduced from six degrees of separation down to three. Even if you're in a rural area, you're only three degrees away from someone who can change your life."


3. Build trust
Did you know that more than half of people in their 20s to 40s check multiple places to determine the legitimacy of a business and/or its products? A verified business or an endorsed profile conveys greater trust and legitimacy. When you showcase your work and have strong evidence supporting your claims in the form of endorsements, this turns curiosity into confidence, pushing potential clients or customers closer to a sale.
4. Create a brand identity
In this digital age, branding via your digital profile is the most inexpensive form of branding. Your digital profile is an asset to build your professional and personal brand. It's not just about who you are, but also your values, unique story and business Unique Selling Proposition (USP). Therefore, you must create a profile that is captivating, engaging and generates interest. A rich digital profile will give your business a face and will increase its value in the market.
5. Showcase your products and services
At the end of the day, the true worth of a business is determined by the quality of products/ services it offers. Therefore, your business profile must hero your key offerings. You could be into eco-friendly products or maybe you are the third or fourth generation business that makes a much-loved product. A digital profile is the ideal platform to showcase your products and services. Similar to your company website, your business profile is a digital storefront for the world to see at all hours of the day or night.


6. Create a strong digital profile on GlobalLinker and grow your business
GlobalLinker offers the most simple and effective solution to create a strong digital profile in a matter of minutes. GlobalLinker helps you leverage all the benefits of having a rich profile—be it making meaningful connections, building trust, creating a strong identity or showcasing business offerings. What's more, GlobalLinker rewards businesses and individuals who have a completed and up-to-date profile by increasing their visibility to others on our platform through our featured SME articles and recommendations to other members who may need your services. A completed business profile will make you stand out and convey that you're serious about your business as well as the GlobalLinker community.


So go ahead…update your profile on GlobalLinker!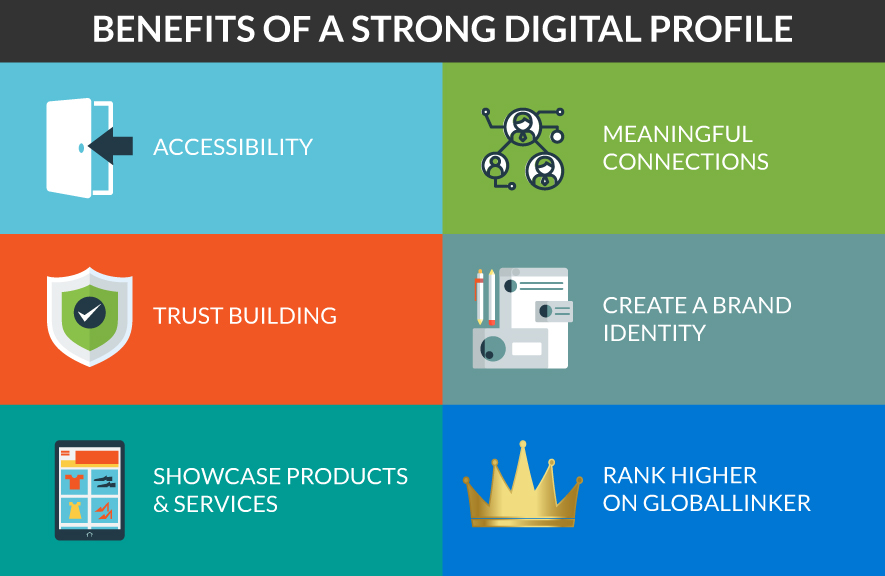 Looking for more articles on business development? Check out our other articles here:
Top 5 digital demand generation channels – Are you online yet?
The power of relevance in an evolving business landscape
Build your digital presence, boost business visibility
Image courtesy: www.unsplash.com
Posted by
GlobalLinker Staff
We are a team of experienced industry professionals committed to sharing our knowledge and skills with small & medium enterprises.