In an age when prospective clients, buyers, suppliers and peers are active online, a rich business profile can increase business visibility. A completed online business profile attracts prospective businesses to connect with you, builds your brand identity, helps you showcase your products and services and enables you to rank higher on search results.


GlobalLinker allows you to create your digital profile and product catalogue in a few simple steps. Invest just a few minutes to create a richer and more updated profile on GlobalLinker.


Step 1
Log in to your GlobalLinker account.
Company Admin: If you are the first person from your company to create an account on GlobalLinker, you automatically become the Company Admin on GlobalLinker. The Company Admin creates and updates the Company profile, secures the Company Network by ensuring that the right Members are part of the Company and manages the Company's purchases.

Step 2
Company profile: A company profile is a powerful and informative tool to attract prospects. It includes your business description, company logo, product/ service details, website link, awards, and other unique information about your business. Remember, your company profile reflects your business identity, so you have to make sure that all information is correct and comprehensive.

To update your Company details, click on your profile pic (or initials) on the top right corner, and then click on the edit icon next to your Company name.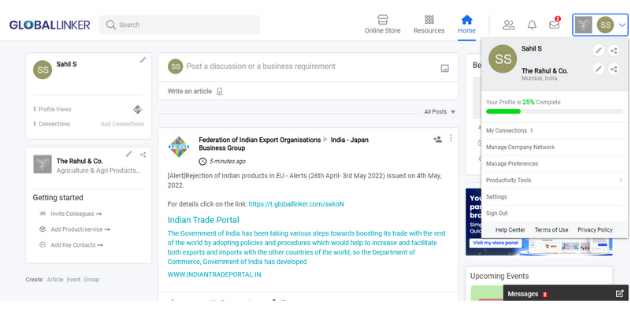 Note: You can update the following details in your company profile:
Your company information – Company name, Company logo, Core Business Area, Product/ Services you offer, Product images, Date of incorporation, Number of employees, Turnover, Nature of business, Business type, Industry, Sub-category, Specialization

Contact information - Business address

Social network - Company website, Twitter, Blog

Awards & Certificates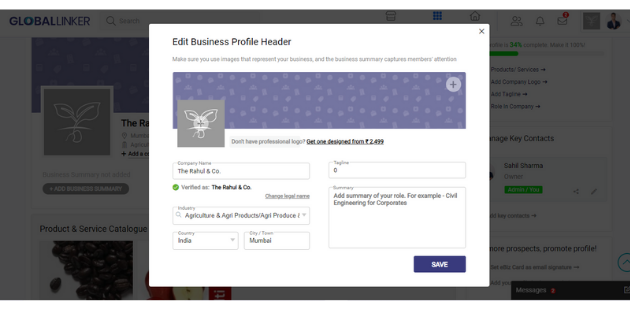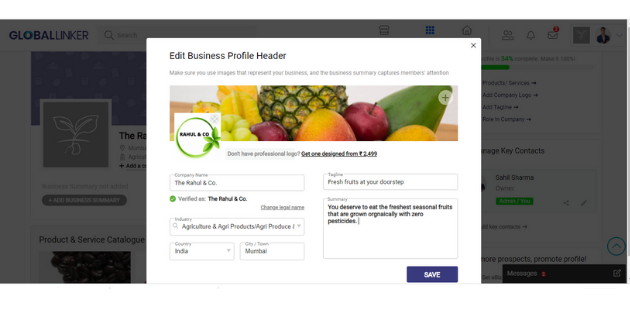 Step 3
Company Verification
Did you know that more than half of people in their 20s to 40s check multiple places to determine the legitimacy of a business and/or its products? A verified business (a business that is an authentic legal entity) conveys greater trust and legitimacy. GlobalLinker allows you to 'Verify' your business in a few simple steps.
On your Company Profile page, under your company name click on "Verify Company" link

Enter your Company PAN number/GST number or click 'UPLOAD' to upload other Government document(s) and click on 'Save'

Note: In case you are a sole proprietor or a HUF, kindly provide a scan copy of your GST to verify your company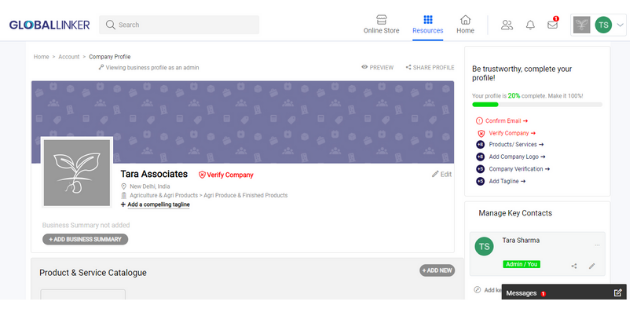 Step 4
Products & Services Catalogue: The true worth of a business is determined by the quality of products and services it offers. Therefore, your business profile must hero your key offerings. Similar to your company website, your business profile is a digital storefront for the world to see all your offerings at a glance.

It's very easy to add your Products or Services to your GlobalLinker profile. To add a product, click on Add New on your Company profile page and then you can add the relevant details.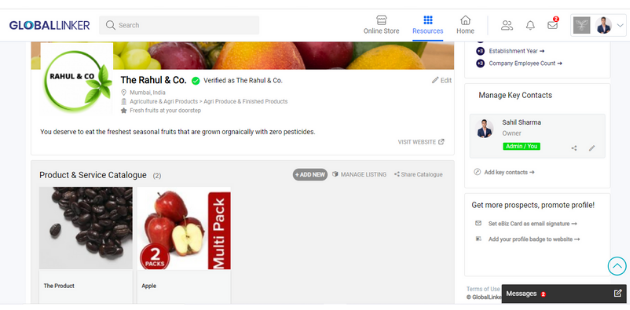 Once you enter all the details, your Listing will be sent for approval and post approval, it will appear on your business profile.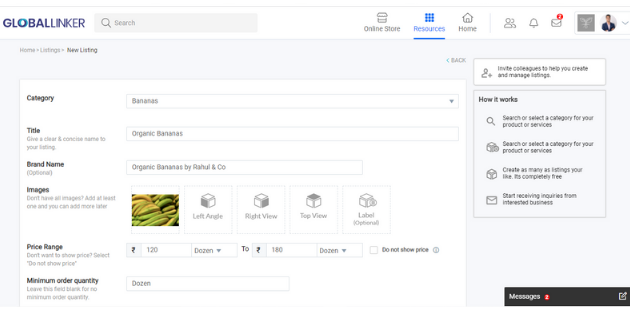 Step 5
Your Profile: Your profile highlights your role in the company, includes some key professional details and your profile picture helps to put a face to the name.
To update your details, click on your picture (or initials) on the top right of your screen and select the edit icon next to your name. Make sure to add your profile picture and cover photo (907x175 px).
Within your profile, you can update the following details:
Personal Details - Complete Name, Designation, Mobile number, Date of Joining, Description

Location - Work Address

Social network - Website, Twitter, Blog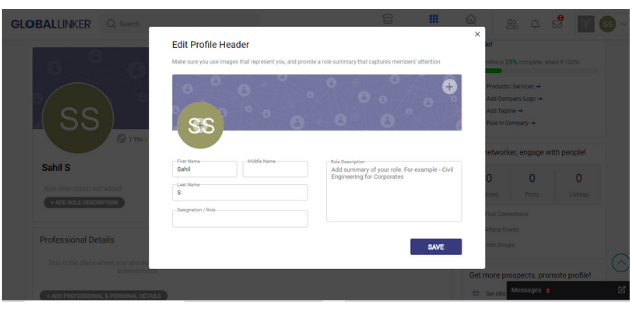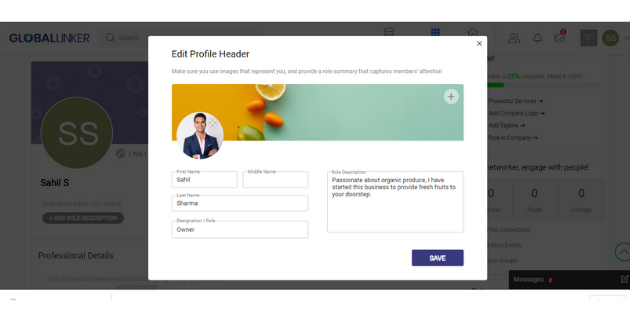 Remember that above all, your business profile is a professional tool that helps you build credibility, showcase your work, and attract buyers. It's extremely valuable, so make sure that you are focusing on maximising its impact.


Here are some examples of rich business profiles across industries.
Fashion - View business profile
Digital & Technology - View personal profile
Food & Beverage - View business profile
Packaging - View business profile
Healthcare - View business profile

So get started, and create a rich business profile now!
We recently conducted an interactive webinar on how easily you can create a rich digital profile for your business. Watch the highlights below.