The secret sauce to keeping your business running successfully is customer acquisition and retention. Sales is a tricky game and in order to ensure that you are consistently scoring high, you must understand the nuances of customer acquisition and retention.


In this post, you will learn:


What is customer acquisition
Customer acquisition funnel
Ways to acquire and retain customers


Let's begin by understanding what customer acquisition is.


Customer acquisition
In layman terms, customer acquisition means gaining or acquiring new customers for your business. Acquiring new customers requires proper planning and the cost of customer acquisition must be thought of before landing into the playing ground.


Customer acquisition is an important aspect of any business because it allows your business to meet the costs of paying your employees, purchasing further resources and also invest in growth.


Also read: Customer Service: How important is it for a startup?


Customer acquisition funnel
Experts believe that customer acquisition takes place in 6 major steps:


Awareness
Interest
Consideration
Intent
Evaluation
Purchase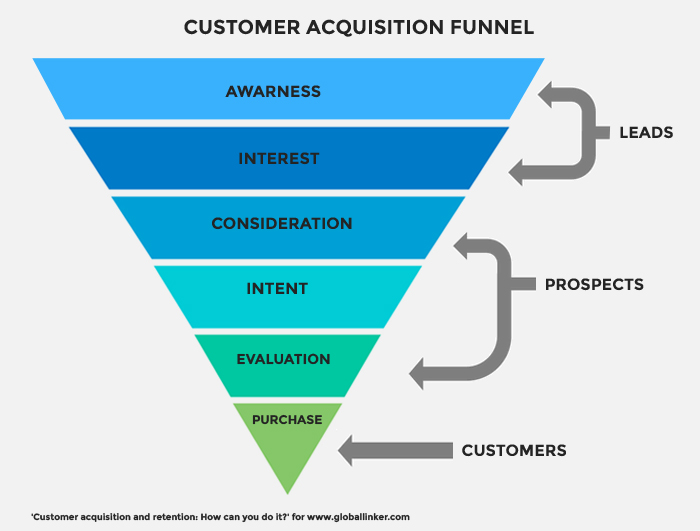 For a business, the entire funnel converts to three major steps that are:


Awareness
This is also the top of the funnel. The main aim at this stage is to spread awareness about your products and services in the market.


Consideration
Moving forward is the consideration stage. This stage consists of customers who have viewed your products and services and are considering purchasing it. How do you come to know if your customers are interested in your products? They either follow your brand on social media or signup for your email newsletter etc.


Purchase
Purchase is the bottom most part of the customer acquisition funnel. This is the last stage before a potential customer finally converts. Businesses must make use of this phase and introduce discount coupons or services like free delivery etc. to lure the customers into purchasing a product.


Strategies to gain new customers and retain them


1. Understanding your target customers
Identify the right audience who you can pitch your products to. It is highly likely that the product you are selling might interest a certain age group in a certain demographic area and might not be of any use to others. In such cases, you need to do a proper market research in order to define who your target audience is.


2. Customer acquisition cost
As mentioned above, customer acquisition cost (CAC) is the next step towards gaining new customers. It is the total amount you spend on marketing and advertising divided by the total number of customers who purchase your products. As a small business, your goal should be to reduce the cost as much as possible relative to the average amount you spend.


3. Paid advertising channels
A great way to acquire new customers for your business is using paid advertising channels. You can turn to Google Ads or Facebook Ads to provide great quality paid traffic. Paid channels use a metric called CPM (cost per thousand impressions). You can choose your target audience based on their interests and other traits. And for a small business on a tight budget, you can define the amount you want to spend on marketing and get the desired traffic to your website.


You can also opt for the traditional methods of advertising like newspaper and flyers and other print ads if you are targeting an older generation. Various advertising techniques give your business the much needed exposure to get the stone rolling.


Also read: 4 unconventional ways to measure customer satisfaction


4. Influencer marketing
The hottest trend in marketing is influencer marketing. And as a small business, this might be a great idea to publicise your products. You can pay someone with a great social media (Instagram, YouTube etc.) following to promote your products. For this you need to identify the right influencer who might be interested in your products, track their social media record and engagement and then approach them.


The main advantages of influencer marketing are raising brand awareness and niche targeting. Also, if you are working with micro-influencers who have a small but dedicated following, you can reach out to your target customers easily without shelling a lot of money from your pocket.


5. Video marketing
Humans are naturally more visual in nature and video marketing is the call of the hour. Businesses and marketers are leveraging the power of video marketing to gain new customers every day. Especially helpful if you have a product that needs demonstration.
SEO optimisation is the source of an evergreen traffic and content uploaded years ago can still rank high on search results and continue to give you customers.

6. Email list
A clever idea to acquire customers and retain them in the future is to create an email list. When you generate leads, you gather their email address and this can be used to create a list. Email list is the best lead generation investment because it generates good revenue by engaging customers over a long duration of time. You can periodically share discount coupons and offers with select customers to keep them active and involved.


Email listing is great for new product launches. For products like a clothing line, you can maximize your return on investment by creating strong repeat purchase habits.


7. Referral programmes
Getting a personal recommendation from someone you know and trust helps you choose a brand better. You can set up a referral programme where your existing customers are rewarded every time they get a new customer to sign up or purchase your products.


Referral programmes are a cost effective way to acquire new customers while retaining the old ones. It helps you build on customer loyalty as well.


8. SEO optimised landing pages
Optimising your landing page to create the right content that your target audience would like to view is a great way to acquire new customers and retain them. Your landing page should include a clear call-to-action that can guide your customers to the product or service they want. In addition to that, creating website content that helps you rank well on Google's search pages is a great thing to do considering the amount of traffic you are going to get.


SEO optimisation is the source of an evergreen traffic and content uploaded years ago can still rank high on search results and continue to give you customers.


Customer acquisition is nothing but decoding what your customers want. Once you have solved that, generating sales is just a scaling up that process. Understand which channel works the best for you small business and accordingly plan a customer acquisition and retention strategy.


Also read: 8 steps to create a survey customers will want to take
Image courtesy: shutterstock.com
To explore business opportunities, link with me by clicking on the 'Connect' button on my eBiz Card.

Disclaimer: The views and opinions expressed in this article are those of the author and do not necessarily reflect the views, official policy or position of GlobalLinker.