As an ecommerce store owner, getting online orders is an important part of your business. However, to fulfil orders, it is essential to have a delivery plan in place. Having your products in stock is one half of the equation while the other is choosing the right logistics partners to ensure products reach your customer's doorsteps safely and on time.
For your convenience, GlobalLinker's ecommerce platform – Linker.store comes with integrated logistics partners at pre-negotiated, competitively priced rates. This ensures that the entire shipment process from pick-up to delivery is seamless and timely.
How does integrated logistics work?
When you want to ship an order, your logistics partner collects the package and delivers it to your customer. While processing your order through your online store seller panel, you send a query to your logistics partner, and based on the volume or weight of the order, the system fetches the cost.
Once your order is submitted, the partner picks the order from your warehouse or pick-up location and delivers it to the customer's address. The partner also provides you details to easily track the orders.
Steps to choose your logistics partners and enabling courier services
Before starting, ensure that your online store setup is complete.
STEP 1
Log in to your GlobalLinker account.
STEP 2
Click on the Online Store in the top menu.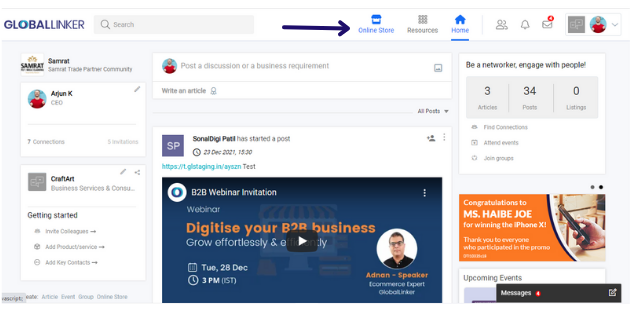 STEP 3
In the Seller Panel, click on Store Settings > Shipping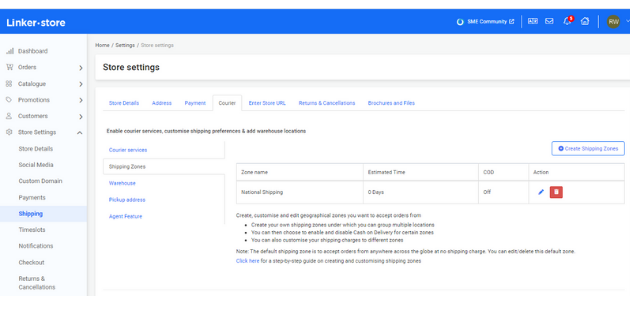 STEP 4
On the Courier services tab, you can turn on one or multiple courier partners for your deliveries You will see all the integrated logistics partners you can work with. These are leading logistics providers to help you deliver your product packages effortlessly.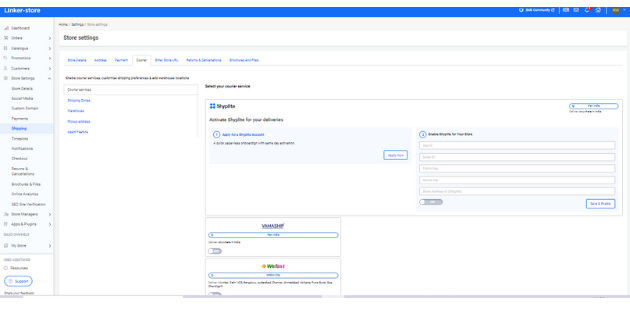 Note: The payment is as per usage on the number of shipment requests that are placed. You will be billed every fortnight. The cost is based on the order's volume or weight.
Once you've enabled your preferred logistics partners, you can have your orders delivered to your customers' doorstep seamlessly. When you receive an order, you will get an option to place a shipping request with any of your enabled logistics partners by sharing the pickup and destination address. The selected courier partner will pick up the package from your warehouse and deliver it to the customer's doorstep. You can live to track your shipment through your dashboard.
The next step is to create shipping zones based on locations, according to which you can customise your shipping charges and enable cash on delivery.
For further assistance, write to us at info@linker.store
Also read: A step-by-step guide to creating your own eStore with GlobalLinker
Image source: Canva
Posted by
GlobalLinker Staff
We are a team of experienced industry professionals committed to sharing our knowledge and skills with small & medium enterprises.